Archive for the ' Organized Labor ' Category
filed under: Organized Labor |
8PM ON 22/05/2013
BY Dave Segal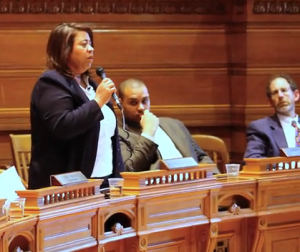 Beth will not be so psyched that my first post in a couple of months violates our no-Kickstarter rule, but so it goes.  (Hi, Beth!)
Did you know that the first hotel housekeeper to hold public office is on the Providence City Council?  A film team led by Margo Guernsey — an awesome left-labor organizer who I got to know right after moving to Providence — is following Councilwoman Carmen Castillo's first three years in office to make a feature length documentary film.  You can click here to contribute to the Kickstarter.
Carmen is wonderful, and now holds the seat formerly occupied by my dear friend Miguel Luna, with whom I joined the City Council in 2003 and who passed nearly 2 years ago.
The film will be guided by cialis cheapest online prices questions such as: How does her role as a room attendant who is also a  lawmaker push our understanding of who should set policy?  Can local communities successfully fight for good jobs and resources?  What is it like behind the scenes at City Hall?
Carmen is one of many fighting for justice in her community. The film will introduce others who are part of efforts to bring justice and good jobs to the neighborhood, and will explore the challenges and issues they all face. Above all else, this is  a film about our democracy: who gets to participate and on what terms.
Documentary filmmaking is not cheap, even when done on a tight budget. It is a grassroots film that needs grassroots support.  It's about 3/4ths of the way to $20,000, with a week to go.  Click here to kickstart the film and help tell this Providence story.
---
filed under: Organized Labor |
12AM ON 11/12/2012
BY Dave Segal
(12.13) Apologies: This post originally stated that the dinner was tomorrow, Wednesday, while it's actually on Thursday.
Jobs With Justice is scrappy, but one of the most important and effective activist organizations in Rhode Island.  The campaign they helped lead in support of a living wage ordinance in Providence is one of the reasons I got involved in politics here and decided to run for City Council a decade ago.
Their 16th Anniversary Awards Dinner is this Thursday, December 13,  at the Cranston Portuguese Club from 6-9pm — it would be great to see all of you there.
It's Rhode Island Jobs with Justice's sweet 16, and you're invited to celebrate another year of fighting together for economic and social justice.
Join us as we honor awardees:
Mike Downey, AFSCME Council 94

Mary Kay Harris, Direct Action for Rights and Equality

John Joyce, Rhode Island Homeless Advocacy Project

Lizbeth Larkin, Cranston Teacher's Alliance, AFT, AFL-CIO

Steve Murphy, IBEW, Local 2323
---
filed under: Film | Organized Labor
3PM ON 29/04/2012
BY provcomlib
(5.1) Just in time for May Day, the Providence Community Library is presenting a free screening of Sergei Eisenstein's 1925 classic "Strike" projected with 16mm film.
This was Eisenstein's first full-length feature; he would go on to make "The Battleship Potemkin" later that year. "Strike" depicts a strike in 1903 by the workers of a factory in pre-revolution Russia, and their subsequent suppression. The film is most famous for a sequence near the end in which the violent putting down of the strike is cross-cut with footage of cattle being slaughtered, although there are several other points in the movie where animals are used as metaphors for the conditions of various individuals.
So . . . not for the kiddies. "Strike" is a silent movie and will be accompanied by live sound from Bevin Kelley aka Blevin Blectum. Running time 82 minutes.
Free, 7:30pm to 9pm, Tuesday, May 1, Rochambeau Library, 708 Hope Street
---
3PM ON 12/11/2011
BY Dave Segal
That's right, RIFuture knew Joey before he was famous.  (You can check out the viral YouTube video here.) Everybody should go see him and the What Cheer Brigade next Saturday, November 19, 2011 at Firehouse 13 (fh13.com) 8:00pm.  More details at bottom.
DS: From what I've seen of the press you've gotten, people are really psyched about your quitting the way you did, because it was indeed awesome.  But they're treating it like you guys made a cameo in a Dilbert cartoon:  "Work sucks, so it's sweet that you told your boss to shove it.  Period." But there's a much more interesting political underpinning to what you did.
JD: There's a big history to the video. You can sense in the manager's face that we've had a rough relationship for a long time. I started work at the Renaissance in 2008 and quickly learned how bad it was there. Many people ask, "Why did you stay there if it was so bad?"  Well, I had to. I was paying for school and this was at the bottom point of the recession–there were no other jobs in Providence.
Since I had to stay, I decided to fight to make the place better. My co-workers and I fought managers informally, confronting them with groups if they were doing something terrible or simply sticking up for ourselves in meetings. We also fought more formally, though, by organizing a union.
more »
---
6PM ON 17/10/2011
BY Dave Segal
On the chance that you're not one of the 500k+ people who've seen this on YouTube already, here's footage of the What Cheer Brigade helping Joey quit his job at the (union-bustin') Renaissance Hotel:
---
filed under: Organized Labor |
7AM ON 04/08/2011
BY Dave Segal
Many of you know Erica Sagrans from her time in Providence as a student and activist.  This month she's self-publishing an awesome new book about the labor fight in Wisconsin:
In February of 2011, the people of Wisconsin changed the political landscape in America overnight. In response to their Republican governor's move to strip workers of the basic right to organize, Wisconsinites decided to fight back—occupying their Capitol for days on end and protesting in record numbers throughout the freezing Madison winter. Their bold action inspired progressives across the country, and revived the conversation on organized labor, direct-action, and civil resistance.

We Are Wisconsin gives an up-close,view of the Wisconsin struggle, as told by the grassroots activists, independent journalists, and Wisconsinites who led the fight. This collection of essays, blog posts, and original writing looks at what happened, what it means, and what comes next—including the real-time, fast-paced story of the Capitol occupation as told through tweets from those who were on the inside.

We Are Wisconsin will be released in August, and will be one of first books out on the Wisconsin fight.
---
filed under: Equal rights | Organized Labor
11PM ON 23/03/2011
BY Dave Segal
We're gaining momentum — the AFL-CIO and Newport Dems both endorsed today.  As the NEA's Pat Crowley put it, he's "prouder than ever to be a union thug."
From WRNI:
PROVIDENCE, RI (WRNI) – The push for same-sex marriage legislation has gained two new supporters, including one of the state's most prominent unions.

The Rhode Island AFL-CIO announced its support of the same-sex marriage bill after a recent vote of its executive committee. The union's president, George Nee, calls same-sex marriage a fundamental civil rights issue.

Also supporting the bill is the Newport Democratic City Committee. That's noteworthy since Senate President Teresa Paiva Weed – who is from Newport – remains a key question mark on the same-sex marriage issue.
---
filed under: Organized Labor |
12AM ON 16/02/2011
BY Dave Segal
Just back from the celebratio
n at Trinity:  Congratulations to the workers at the Westin, who have survived a two-year standoff and today ratified their new contract in a 114-4 vote!  Here's the Projo article:
PROVIDENCE — In a move that brings an end to a two-year labor dispute that produced rallies and a consumer boycott of the Westin Providence hotel, Unite Here union employees voted 114 to 4 Tuesday to ratify a new three-year contract that gradually erases a 20-percent pay cut and immediately returns half of the 54 employees who were laid off.
---
filed under: Organized Labor |
12AM ON 21/01/2011
BY H.L. Parker
Don't they all pretty much look like this? According to the ProJo Pats Blog,
The New England Patriots are now members of the Rhode Island AFL-CIO, according to George Nee, the state president of the national labor organization. Nee said the players have always been affiliated with the national AFL-CIO.

But "just recently the National Football Players Association decided that it would be advantageous to affiliate with the state and local federations. We just got notified two weeks ago. So the 53 members of the NE Patriots are now dues paying members of the Rhode Island AFL-CIO."

Chimed Sen. Joshua Miller, D-Cranston: "So if you hate labor, you hate the New England Patriots. Be careful who you hate."
Of course. . . everyone does kinda hate the Patriots right now.
---
filed under: Organized Labor |
12AM ON 29/11/2010
BY Dave Segal
Join us Tuesday, when we will recognize those who have fought for workers rights & who have moved our movements forward!

Rhode Island Jobs with Justice
14th Anniversary Awards Night

Tuesday, November 30th, 2010
6:00 – 9:00pm
Providence Firefighters' Memorial Hall
90 Printery Street, Providence, RI 02904

To support our efforts please click here.

Join us for dinner, drinks and music to honor the work Rhode Islanders do every day to fight for economic justice and workers' rights! We will award those who exemplify our vision of solidarity, reciprocity and working together to win victories for workers.

In Memory of Arline B. Bolvin
Lifelong community activist for economic justice
Honorees for their work in the past year include:
---
filed under: Organized Labor |
8AM ON 11/11/2010
BY Dave Segal
From the Brown Daily Herald:
Under the new contract, workers will pay 7 percent of their health insurance premium costs beginning in July 2011, an increase from the current 6 percent. That figure will rise to 9 percent in July 2013 and to 12 percent when the contract runs out on Sept. 30, 2014.

Accompanying those premium share increases are wage increases. Library union workers will see an increase of 2 percent in their base wage for each of the next four years, effective Oct. 1 of this year. Workers are also set to receive a 1.5 percent increase July 1, 2013. The four-year agreement, which ends on Sept 30, 2014, calls for a 1 percent increase on that date.

"The concerns expressed were mostly regarding the preservation of work issue, as well as some about the four year contract and possible inflation in the outlying years, since it is essentially a two percent wage increase per year, when you deduct for the health insurance premium increases," McAninch wrote in an e-mail to The Herald Tuesday afternoon.
---
filed under: Organized Labor |
4PM ON 04/11/2010
BY Dave Segal
From the Brown Student Labor Alliance:
The library workers' contract was extended again, to November 8. The university is refusing to back down from its harmful proposals that would hurt working families. Library workers have voted to authorize a strike. Hundreds of students, faculty, staff, alums, parents, and members of the Providence community have voiced their support for a fair library contract with affordable health care.
In her public statements to the Brown Daily Herald, Vice President Huidekoper justified the proposed increases in health care costs by suggesting that the library workers' contributions have been below "the market." Citing the higher health care payments of workers at University of Rhode Island, Rhode Island College, and Providence College, Huidekoper argued that the workers should pay more to be in line with the "market average" in the area. She also cited Brown's projected budget deficit for this year. But given the administration's continued investment in multi-billion dollar building projects, their decision to use last year's tuition surplus to fast-track the Campus Center renovations, their purchasing of plasma TVs for the cafeterias with profit earned from Dining Services, and a myriad other spending choices that reflect the University's true priorities, this profession of financial woes rings more than a little untrue.
Moreover, by comparing Brown workers' benefits to those of colleges in Rhode Island—institutions without multi-billion dollar endowments—instead of the schools Brown generally counts among its "peers"—Yale, Harvard, and other Ivies—the administration has tried to avoid accountability to the higher standards entailed by Brown's wealth and status.
Ultimately, this debate comes down to questions of community, and valuing the crucial role library workers play in the daily functioning of the school. To support those of our community members currently facing attacks on their access to affordable health care, we will once again be rallying, this time outside of University Hall on the Brown U. Main Green on Friday, (TOMORROW) November 5 at 2pm. This will be an escalation from our last rally–the university has made it clear that it won't back down, and neither will students, faculty, and all members of the Brown and Providence community committed to economic justice and fair treatment.
To repeat: Rally, TOMORROW November 5, 2pm, outside University Hall on the Main Green at Brown (75 Waterman). We demand a fair contract NOW!
RALLY WILL FEATURE MUSICAL ACCOMPANIMENT FROM MEMBERS OF PROVIDENCE'S OWN WHAT CHEER? BRIGADE
If you haven't already, please send an email to Brown's Administration.
And for more info, check out the Facebook Event
---
filed under: Organized Labor |
7AM ON 15/10/2010
BY Dave Segal
This move took some real gut
s — the folk at sage have proved a spiteful bunch.  Hassett deserves a lot of credit.
PROVIDENCE, R.I. — City Councilman Terrence M. Hassett resigned from the community advisory board of the Renaissance Providence Hotel this week, saying that the hotel's management company failed to recognize the hotel workers' efforts to unionize.
Hassett said that Sage Hospitality, the company that manages the hotel, had been ordered by a U.S. District Court judge to proceed to a neutral arbitrator but has refused.
He also said that there was concern from community members that the company was not fully complying with the city's First Source Ordinance, which requires that businesses that receive city subsidies give priority to local residents for new hires.
"The community I represent is suffering. Companies like Sage Hospitality that receive public tax dollars should follow the law, obey court orders and create good middle-class jobs," Hassett said.
---
filed under: Organized Labor |
12AM ON 13/10/2010
BY Dave Segal
The contract for Brown's library workers is up in three days, and university is pushing for a 250% increase in health care co-pays and other hard-hitting measures that will hurt the workers.  Please help out by reading on, and coming to rally this Thursday at noon at the Rockefeller Library, 10 Prospect Street.
As many of you may have heard, workers in Brown's libraries are currently in contract negotiations with the university. The university is trying to:

Increase the workers' contributions to their health care plan by 250%!
Remove language from their contract that allows them to have steady work hours
Officially get rid of the doorguard position at the Rock and replace it with a turnstile – making it near impossible for students who forget their IDs or non-Brown card holders to enter the library

This comes after a brutal spring 2010 in which many library jobs were subcontracted out for lower wages, including security guard positions.

So what can the Brown community do to support campus workers?  We can show the administration that we won't accept these attacks on affordable health care and fair treatment.


Join us at a rally this Thursday the 14th on the steps of the Rock (10 Prospect St) from Noon – 1. Check out the facebook event here: http://www.facebook.com/#!/event.php?eid=160459787311320
Send an email to 5 of the key administrators who are preventing the library workers from having a fair contract by using this cool tool: http://tinyurl.com/SupportLibraryWorkersbyEmail
Sign the petition below in support of the library workers and your signature will be presented to the administration along with hundreds of others.  If you can't see the petition below check in out here: http://tinyurl.com/SupportLibraryWorkers

This issue is time-sensitive–the contract expires in less than three days–and we're looking to mobilize as broad a section of the community as possible on behalf of workers' rights.
---
filed under: Organized Labor |
11PM ON 07/10/2010
BY Dave Segal
Workers are engaged in fierce months-long organizing battles at the Westin and the Providence Renaissance (Masonic Temple) hotels.  The owners have been playing hardball, but the courts are starting to call them out on countless labor law violations, violations of court orders, and generally unscrupulous behavior.   The Projo has this blurb on the Westin:
PROVIDENCE, R.I. – Local 217 of Unite Here, the union representing hotel workers at the Westin Providence, is highlighting recent rulings by the National Labor Relations Board that favor the union in its dispute against the hotel's manager.

The union says that the board's general counsel recently authorized an expanded unfair labor practice complaint naming TPG Hospitality Inc., the national Procaccianti management company that operates 57 hotels nationwide, including the Westin.

The counsel also found merit in the union's charge to authorize a complaint against the Westin Providence for illegally laying off cafeteria staff.

Finally, an arbitrator ruled that the hotel had outsourced its laundry department in violation of the union's contract with the Westin, ordering the hotel to pay the laid-off laundry workers and to refund the state for unemployment paid out to these workers as a result of the layoff.

"We've won enormous victories this week," said Chris Cook, a purchasing and receiving agent in the Westin Providence and an executive board member of Local 217. "The general counsel of NLRB solidified what we've been saying: the Procaccianti management actions againstus are illegal unfair labor practices."
At the Renaissance — where 85% of workers signed cards asserting that they want to join the union — management has refused to obey a court order requiring them to go to arbitration; they were just ordered to arbitration a second time.  If they keep it up, they're likely to be held in contempt.
---
filed under: Blogosphere | Organized Labor
12PM ON 21/07/2010
BY Dave Segal
Nolan Treadway of Netroots Nation just posted this diary to Kos, as the 2010 convention gets underway in Vegas.  They're standing with the Westin workers, but would love to come to Providence — and the Westin — after the dispute is resolved:
As I'm sitting in Las Vegas, ready to start the last prep day for Netroots Nation 2010, we must address an open question regarding Netroots Nation 2011….

You may recall a few months ago when Netroots Nation made the unprecedented decision to go public with our venue search in the hopes that we could show the management of the Providence Westin that being good to your workers is not just the moral thing to do, but it also makes good business sense.

We would all love to have this convention in Providence in some future year, AFTER the Procaccianti Group wakes up and negotiates a fair contract with it's employees.

Sadly, things at the Westin have gone from bad to worse.  In June, the owners of the Providence Westin, The Procaccianti Group, announced that they would be cutting 50 union jobs (of the 200 at the Providence Westin) and that those jobs would be outsourced to a (presumably non-union) subcontractor.  It's clear that the Procaccianti Group has no interest in bargaining in good faith and, in my personal opinion, it's end goal is to break the union at the Providence Westin altogether.
---