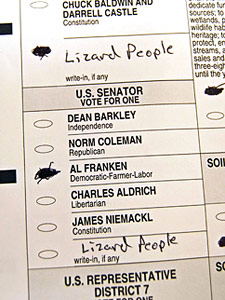 I've been writing for the Huffington Post here-and-there of late. Just authored this piece with my FairVote colleague Rob Richie.
John Gideon was a prominent voting rights activist who sadly passed on Monday night.  Rob proposes a "Gideon Initiative" which would rein in voting equipment contractors — who stymie electoral reform, increase chances of malfeasance, and cost way too much. Please see the post for more info.
But there's a bigger issue here, about consultants and contractors:  In the voting world, when we contract out to private companies, those companies can come to own a piece of us.  They control when software gets updated and they control the operators — along with the politicians who issued the contracts in the first place.
This is just as true in other facets of governance and the privatization thereof: Perhaps contributor Tom Sgouros will add a bit about the company that cuts Family Independence checks for the State of RI — and charges us $5 million each year to do it.