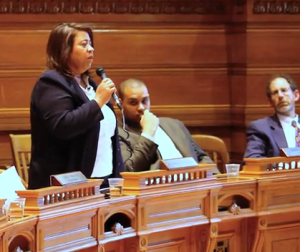 Beth will not be so psyched that my first post in a couple of months violates our no-Kickstarter rule, but so it goes.  (Hi, Beth!)
Did you know that the first hotel housekeeper to hold public office is on the Providence City Council?  A film team led by Margo Guernsey — an awesome left-labor organizer who I got to know right after moving to Providence — is following Councilwoman Carmen Castillo's first three years in office to make a feature length documentary film.  You can click here to contribute to the Kickstarter.
Carmen is wonderful, and now holds the seat formerly occupied by my dear friend Miguel Luna, with whom I joined the City Council in 2003 and who passed nearly 2 years ago.
The film will be guided by questions such as: How does her role as a room attendant who is also a  lawmaker push our understanding of who should set policy?  Can local communities successfully fight for good jobs and resources?  What is it like behind the scenes at City Hall?
Carmen is one of many fighting for justice in her community. The film will introduce others who are part of efforts to bring justice and good jobs to the neighborhood, and will explore the challenges and issues they all face. Above all else, this is  a film about our democracy: who gets to participate and on what terms.
Documentary filmmaking is not cheap, even when done on a tight budget. It is a grassroots film that needs grassroots support.  It's about 3/4ths of the way to $20,000, with a week to go.  Click here to kickstart the film and help tell this Providence story.