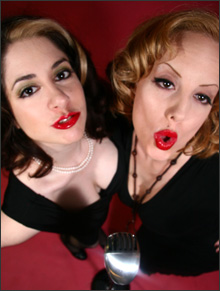 This had better be good, if it's gonna justify the amount of re-formatting that was needed to make it intelligible:
AS220, Saturday April 19th, 9pm.
8 dollars Cheap! All Ages
Not your grandma's vaudeville.
Featuring Comedy from Evan o'Television, Jon Rineman, and the Naked Comic. Yes, he's really naked.
Burlesque by Bella Minx Burly Q
Weirdo, the human floor
Hosted by the Steamy Bohemians
"Thwack together vaudevillian comic chops, astounding musicality, and oodles of quirky sex appeal and you've got the Steamy Bohemians, Boston's very own darlings of debauchery. Part glam rock, part stand-up comedy, and all sass, steamy duo Lainey Schulbaum and Niki Luparelli seductively tickle audiences with songs like "My Love For You (The Mayonnaise Song)," "Second Cousin," and "The Ballad of the Bastard," which the ladies claim are inspired by "chaos, cultural discontent, and gender polarity. And weed."
Though their banter rivals Lucy and Ethel and their lyrics are borderline absurd, these broads offer more than just a kitschy hook. Both are classically trained sopranos, and Schulbaum's guitar playing will rock your pretty little face off. Check out their debut album Technicolor Radio or, better yet, their live show Jerkus Circus.
– Sara Faith Alterman for Stuff@Night